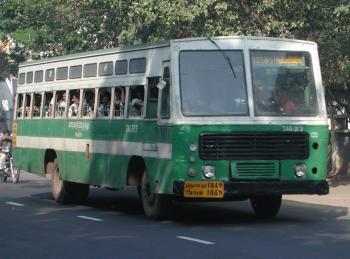 (In pic: a 21 g.. that is good bus.. very frequent... not a pimple pain :P )
What do you do when you have to travel at 7 in the morning everyday to a place that is 40 minutes away and the only bus that can take you there is an elusive old wuss? (Disclaimer: Children, please don't show this post to your parents or you'll be barred from further communication with me :P ).
5C has been a part of my life for the last 3 years. Actually, i ve wanted it to be an integral part of my life (it is the only bleddy bus that goes from mount road to taramani in one stretch) but it has evaded me and shown severel signs of disinterest in my proposal. The damn bus is so elusive, i've decided to call it The Scarlet Pimple (coz calling it Pimpernal would be an insult to the real Percy Blakeney and the bus is a pain.. like a burst pimple! Hence, the reference).
The last two days of waiting for the bus have been particularly frustrating and it is soooo evident that the bus hates me! :(
Day 1
7 : 15 - Idly (my friend who will hence be called this as she loves idlis and her names rhymes with it) and I were at the bus stop waiting for 5 c
7: 20 - Still waiting
7: 25 - Still waiting
7: 30 - Still waiting (at this point i sit and slightly doze off)
7:35 - Running late.. still waiting
7:38 - Fed up. Idly and i catch an auto to the MRTS station.
7:40 - At the junction, a 5 five minute walk from the bus stop we just ditched, we prepare to turn just as we catch a glimpse of the elusive pimple. We call an emergency rush and ask the auto wallah to 'rush forward in full speed to 5 c's next stop'.
7: 45 - We are at the next stop
7: 48 - We realise we missed the bus and catch another auto to the train station mumbling curse words.
Day 2
7:20 - Idly and i walking towards bus stop and spot 5 c just stopping.
7: 21 - Run frantically towards the stop, signalling with hands and feet and whatever we else we could do
7:22 - The bus goes past us and the driver sneers, not stopping to give 2 poor children a lift.
7:23 - "Ass, bleddy dog, stupid bus.. i pray you have a breakdown and whichever stop u stop at noone wil get on and everyone will signal u to stop in the middle of the road and then show u middle finger when u stop", Idly mumbles
7:25 - We wait
7: 30 - Waiting
7:35 - Waiting
7:37 - "I don't think we'll get another one so soon. Let's walk to the junction and take a bus to the train station. Will save us time and we wont waste money like yest"
7:40 - We at the junction.
7:40 and 35 seconds (i think) - We turn and see 5 c AGAIN goin towards the stop.
7: 41 - "STTOOOOPPPPPPPPPPPP" we yell, running towards the stop in full speed, trying to race the bus to the stop.
7:42 - Bus reaches stop before us. We run. People watch. We still run.
7:43 - We step on the bus and it takes off.
7:44 - "I think we just woke up alot of ppl on the that road", idly says. "We should've yelled good morning instead", i comment.
7:55 - Bus picks up girl from the middle of the road. "See this guy is nice. I hope that fellow has a breakdown and has to stay there for hours", Idly curses again.
7:58 - "Write blog post on this. Everyone needs to know how much we suffer", idly says, adding "And put my quotes in it"
9 pm - I oblige.