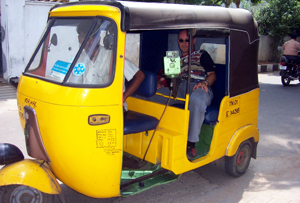 Before i start this post, let me tell you that even as you finish reading it you may not understand why i titled my post this... well.. if u do understand, kindly let me know wat you understood.. understood? no? doesn't matter... :D
This morning i was in a hurry get somewhere from college... and therefore decided to call for an autorickshaw than wait for a bus.. and so the rick came... a very enterprising young man sittin inside it.. it was still early in the morning and he looked fresh out to do business...
I was in Nungambakkam and had to get somewhere near Coffee Day, gopalapuram, for which i normally pay a fare of Rs. 25; only. Sometimes i think even 25 is a sin.. but whatever.. here's how i haggled.
Me:
Anna, i need to get to dav school. How much will that cost?
Him:
Give me Rs.60.
Me:
Rs. 60? To dav school or to buy the auto?
Him:
Very funny, who'll give you an auto for Rs. 60
Me:
I know. Who'll give you 60 till dav school?
Him:
How much will you give?
Me:
25
Him:
What? Petrol prices have gone up.. we have to go straaaaaaaaaaaiiiiighhhhhhhhhttt and take a uuuuuuuuuuuuuuuuuuuuu turn... and then go rouuuuuuuuuuuuuuunnnnndddd and come by a oooone way and then ....
Me:
First of all, petrol prices are down... second you dont' need to take a you turn anywhere or go roooooound the place. Do you know where it is?
Him:
Of course.. i've been living here for 30 years.. don't insult my service.. of course i know where it is
Me:
Then why are you building stories?
Him:
Finally, how much will you give?
Me:
25
Him:
40?
Me:
25
Him:
35?

Me:
25

Him:
30? Final.. or no need
Me:
Ok bye, i'll find someone else
Him:
If i leave you near the school that's enough no? Why didn't you say that before ma, 25 is enough.. get in..
I finally sit and the auto moves faster than a bullet... half way through near the junction he turns to me "Do i go straight?"
Me:
Yes
2 mins later...

Him:
on the flyover or to the side?

Me:
Side
At the signal...
Him:
Left or right?
Me:
Left
At another junction...
Him:
Straight no?
Me:
No, right
And then we reached the place...

Him:
Madam, see i told you i know the place like the back of my hand!